Geko Local Expert
Wayan
Bali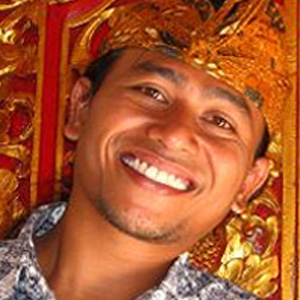 "Salamat datang di REAL Bali, nama saya Wayan, Welcome to the REAL Bali, my name is Wayan. Senang bertumu anda! It's nice to meet you!
I want to be a Balinese cultural guide to show people from around the world how unique our culture is and for them to perhaps take some of our cultural philosophy back to their countries. I believe that this might help the world become a peaceful place without war. If all people practiced Nyepi, our Balinese New Year ceremony for example, global warming would be decreased and, people would respect the environment and each other more.
I'm very proud of the Balinese unique culture and would like to share it with people from around the world. Everyday life of the Balinese community and spiritual belief is linked with each other in a union we call Hindu Dharma. It is a mix of Hindu Siva brought to Java in the 11th century from India, and Hindu Buddha from the 14th century Majapahed Kingdom. This union helps to protect the people because we believe in no killing, no cruelty and no jealousy. We call this way of life, Karma.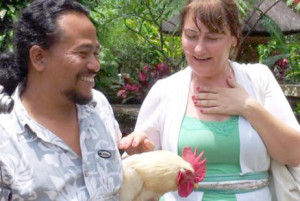 I have been a tour guide in Bali for over 15 years, and now I work closely with Swallow Guesthouse to receive sponsored income to pay my 3 children's high school fees. I wish my children to have a good life. Together with my wife Putri, who creates amazing meals for our foreign guests, we live in my father's family compound with my two brother's families.
One brother, Nyoman, has a small carp farm where guests can go and help feed and maintain the pond. There are a total of 15 family members coexisting in harmony in the small village next to our family's rice field and my father's organic garden. He is an "organic fanatic!" This is where my mother and father raise their cows, pigs, and chicken. This is our families "plastic money" the traditional way of making money.
We are mostly a self-sufficient family living like our ancestors. Unfortunately, modernity and tourism has brought price increases and a higher desire for modern things. I strongly hope that my job as a tour guide will help my children want keep our unique culture strong for many generations to come and to live a good and happy life for their karma."